Working from home has been the norm for blogger Rachelle. The guest room in her home served as her home office and worked for her flexible schedule. But with a change to her husband's workflow, suddenly, they had two working from home with only one office. They recently moved into a new home, so relocating was out of the question, and renovation costs were out of budget. So, Rachelle turned her attention to the backyard.
"We bought our home in March of 2020, and of course, we had no idea just how much time we would spend there," laughs Rachelle. "My husband has so many calls and Zoom meetings, and it made sense for him to take the office." But that left Rachelle working from the kitchen table. "Our home is small, but we have so much extra space in the backyard," she notes. "I've seen some really amazing shed offices on Pinterest, and it seemed like the perfect solution."
Starting The Home Office Project
Rachelle started researching shed companies and pulling together a Pinterest board of inspiring offices and shed conversions. The deciding factor for choosing Tuff Shed? Onsite installation. "There are so many companies that offer kits, but I didn't want to hire an additional contractor or start a DIY project," laughs Rachelle. So, she stopped by her local Tuff Shed office, toured a few displays, and nailed down the design with the team.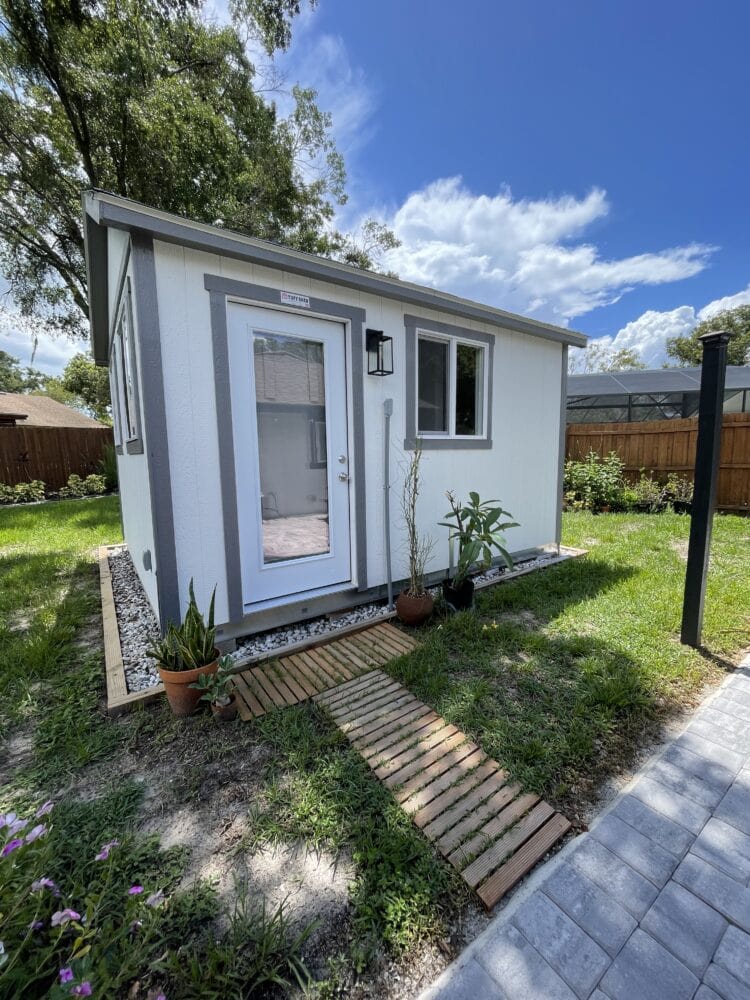 She even found inspiration with another Tuff Shed Office, basing her shed design on Natalia's She Shed Office. When designing her 10×12 Premier PRO Tall Ranch, Rachelle left room for a partition wall to add extra storage space in addition to her office. She included plenty of windows and a full-lite residential door to keep the space bright and airy.
After installation day, Rachelle worked with a local contractor to complete the interior finishing work. The team helped with the electrical wiring, drywall, lighting, and paint. And the finished product is pure office inspiration. "I've always enjoyed working from home, and I'm so happy to have my own space back," says Rachelle.
You can read more about Rachelle's home office experience and find a full-cost breakdown on her blog: https://thetravelbite.com/blogging/how-to-build-a-she-shed-office/
Start Your Home Office Design