For professional photographer Caron Krauch, her 'Art Barn' dream was more than two and half decades in the making. But together and and Tuff Shed made her 'Art Barn' vision come true.
"I always envisioned a barn right there. We even had plans for something drawn up 25 years ago," Caron told us about the plot of land in her yard. Various things, including the land she wanted to use being occupied by her horse, got in the way. But eventually she knew the time was right and began exploring what could be done with her California yard.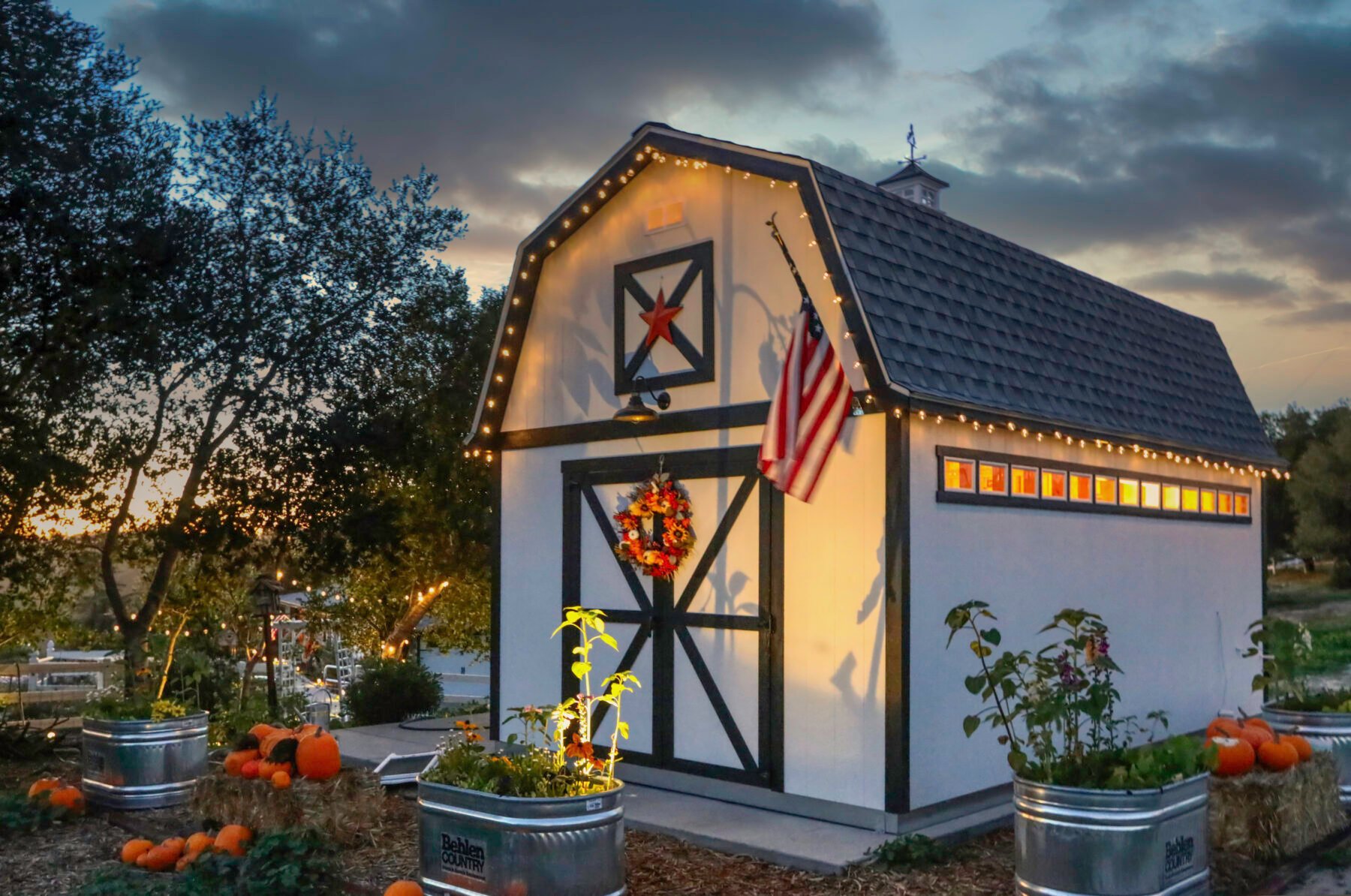 "It was a neighbor who told me about a friend who had a Tuff Shed in their back yard and how much they loved it," Caron says. The recommendation led to her contacting her local Tuff Shed location.
"Within half of an hour of walking in, we had plans and I had written a deposit check right there," she beams.
A Perfect Setting for Photographs
Caron has an eye for detail and picturesque shots. That makes her the kind of person who has a vision of for the style and beauty she wants in her projects and her barn needed to meet those standards.
"I love my barn. I just love it. It looks like something right out of a magazine," Caron says.
What's not to love about this Tuff Shed? Her Premier Pro Tall Barn is a 12 X 20 masterpiece. Painted with our Delicate White base and Black Magic trim, every part of the build, especially the 13 transom windows, pops.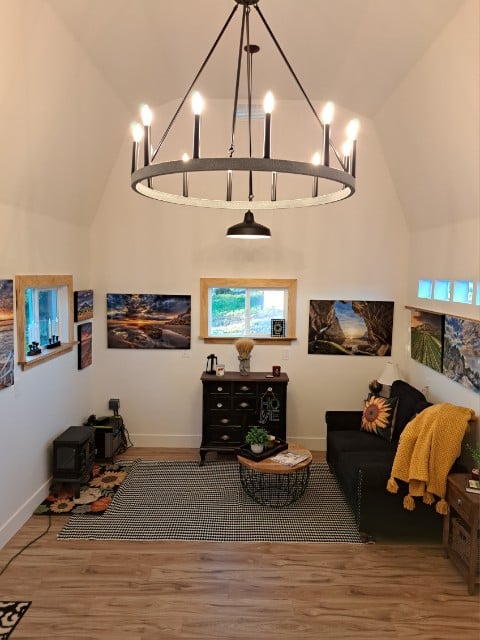 A Building the Whole Neighborhood Loves
"It was paramount to have the outside blend in seamlessly with my property," Caron says of her Tuff Shed barn. "My neighbors just love it. They talk about all the garden beds I put around it, and to see the flowers and I've had more than one neighbor thank me for building it and say they think it raises the value of the whole neighborhood."
"The Art Barn", as she has dubbed it, is a place for her customers to come and browse her photography in a cozy, welcoming environment. Caron's gone the extra mile and had many professional upgrades completed that make the interior truly unique, including painting the interior, running electrical to her amazing lights within, and having hard wood floors installed.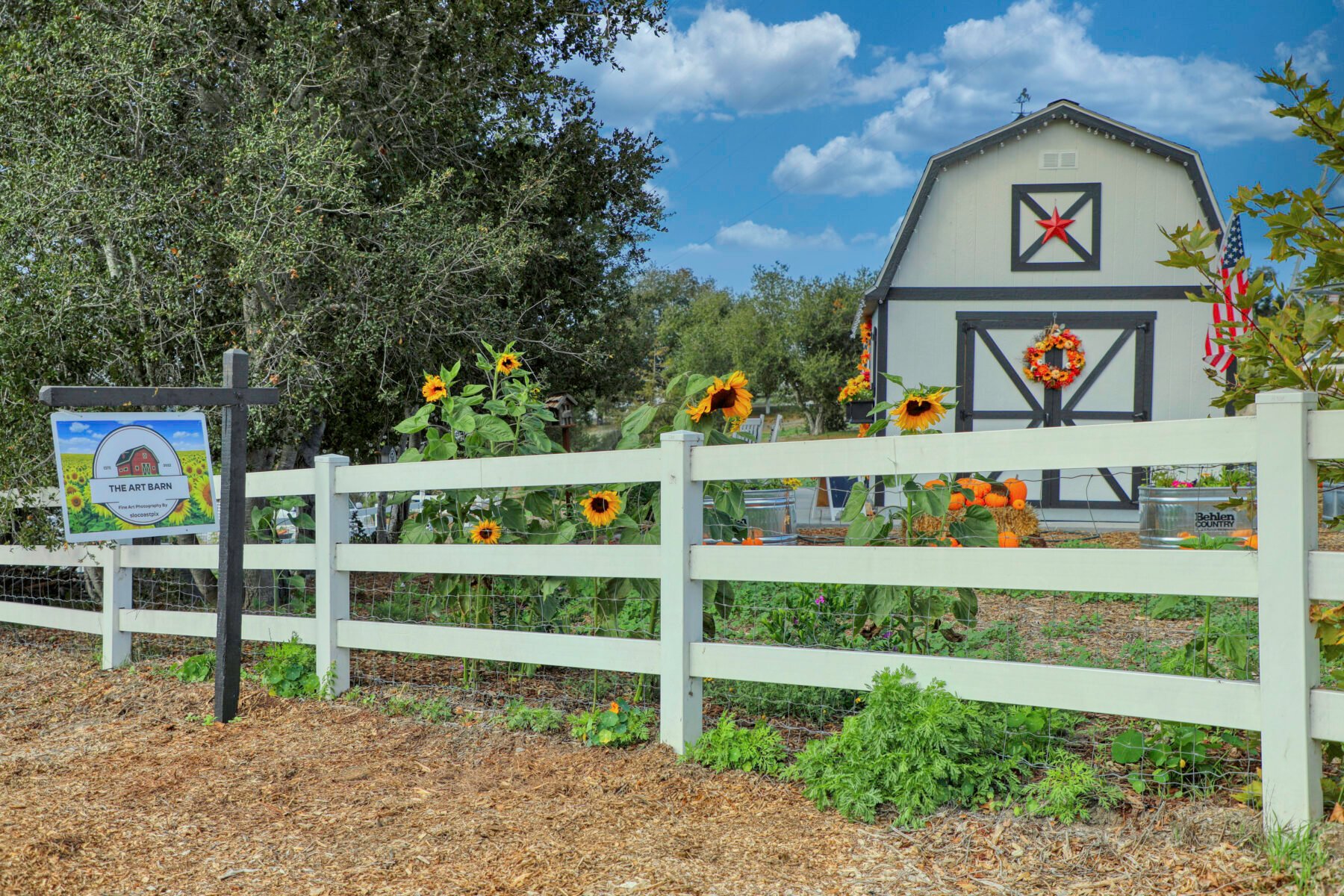 As for the process of getting her Tuff Shed built, Caron wanted to especially praise the installers. "It was amazing. They drove two plus hours to do it, worked all day, worked like crazy really, and then had to drive two hours back. I've never seen anything like it. I was amazed at how good they were."
That installation recently met the high Tuff Shed standards when the unprecedented rains California experienced this winter occurred.
"Not a drop of water got inside my barn. It was fantastic!" Caron exclaims.
What's better than one Tuff Shed barn?
As for the future of "The Art Barn"? Well, it may be getting a sibling.
"I'm already thinking about getting another Tuff Shed," Caron says. "It's a great product. I love it."
Are you ready to start your journey and get your own Tuff Shed barn for art, or whatever you can dream up? Find all of our barns, sheds, garages, studios and more right HERE.
If you would like to see more of Caron's photos (trust us, you do ) you can go to her website HERE or follow her on Facebook and Instagram. You can even see an incredible video of her beautiful barn HERE.