YouTube sensation Stefani Terry, of Home with Stefani fame, recently partnered with Tuff Shed® to build her dream workshop. We documented her entire journey, from design consultation to factory tour to installation of her Tuff Shed building. You can see it all in the video below.
The Home with Stefani YouTube channel features this 'carpenter's daughter' doing every DIY and home improvement project you can imagine. And, with more than 170,000 subscribers, Stefani has earned the respect of her loyal audience.
At home with Stefani Terry
A former Army National Guard Carpentry and Masonry Specialist, Stefani lives in Florida where her Naval Aviator husband is stationed. As of a result of being recently told that they'll be in their home for the foreseeable future, she decided it was time to finally build a dream workshop worthy of her Home with Stefani brand.
Time to Design
Shortly, Stefani used the Tuff Shed Online Design Tool to customize her Premier Pro Series™ Tall Ranch. With her focus was on creating something big, bright, and beautiful. With discerning tastes, high quality standards and a specific vision in mind, Stefani wasn't going to settle for just any shed. Of course she was impressed with Tuff Shed's ability to add customization and the quality of our construction. Firstly, she started with a large building (16'x22') and neutral paint scheme. Then she accessorized like the pro she is with full-lite residential double doors, and three 3'x3' custom windows to match those on her home and to maximize the natural light inside her new workshop.
Having hired a concrete contractor to pour a slab for the building, Stefanie chose the no floor option and had us bolt the baseplates of the walls directly to the concrete. This is a great way to go if, in this case like Stefanie, you plan to add custom flooring inside the structure after the building has been installed.
Customizing to Perfection with Tuff Shed and Home with Stefani
Finally, one big point of pride for Stefani was being able to use our online design tool to customize the roof inside with scissor trusses for a more lofted feel overhead and outside with eave overhangs and shingle colors to match with her house.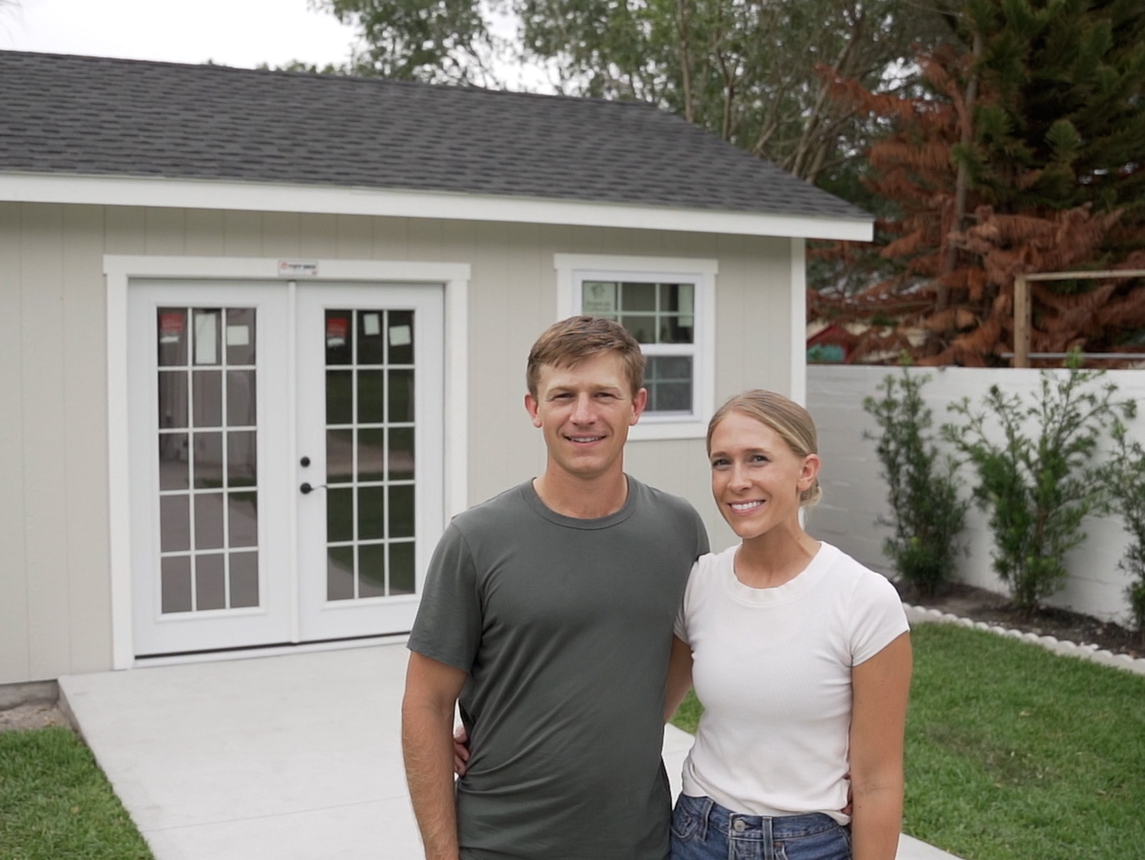 If you want to feel like you're at Home with Stefani, here's all the information about her Premier Pro Tall Ranch.
16X22 Premier Pro Tall Ranch
Full-Lite Residential Double Door
Scissor Truss Roof Upgrade
Eave Upgrades
3 (3X3) Custom Windows
House Wrap (a must if you plan to insulate your space)
Certainly, Stefani continues to impress everyone with her customizations on her Tuff Shed. You can follow along and see her other DIY tips on all the social media channels for Home with Stefani. Make sure to keep up with the journey of Tuff Shed and Home with Stefani.
Keep up with Stefani's Tuff Shed Journey
Website: https://homewithstefani.com/
YouTube: https://www.youtube.com/channel/UCXxL7mNEwADEqQ73xdhYFZw
Instagram: https://www.instagram.com/homewithstefani/
Pinterest: https://www.pinterest.com/HomeWithStefani/
Facebook: https://www.facebook.com/HomeWithStefani