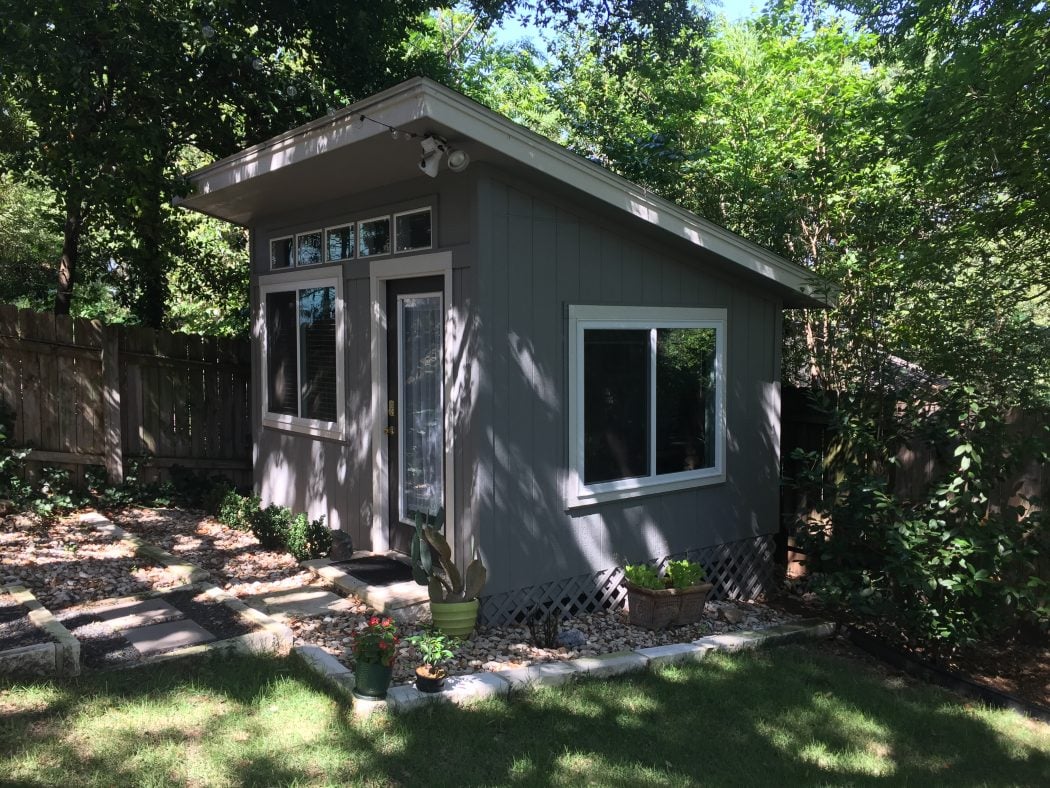 Inspiration strikes in many different ways. For Robert Blohm, the inspiration for his home office struck during his search for a storage building for his parents. He found both the storage shed and a home office for himself while doing research online at www.tuffshed.com .
Robert was a fan of the modern look of our Premier Pro Studio, but first he wanted to make sure that Tuff Shed was the best choice. "I compared it to other prefab companies that specialized in studios. I found that Tuff Shed had the best value and the fastest timeline," says Robert.
He chose an 8×12 Premier Pro Studio, outfitted with a full-lite residential door, two 3×3 windows, and five upper transom windows on the front wall. After the studio was installed, Robert hired an independent contractor to finish the interior with insulation and sheetrock. He painted the interior and installed an AC unit and electricity in the studio as well.
The studio now serves as both a home office and guest suite when the Blohm's family comes to visit. With a desk and a foldout couch inside, and a great view of the backyard, it makes for a fantastic space to work or stay in.
Robert, a representative for Xactly, loves to mention his new workspace to both coworkers and clients. "I'll catch people off guard when I say I'm running the business out of my shed. Then I get to tell them all about Tuff Shed and show them the photos of my office." When your shed looks as good as Robert's office, we think it's perfectly acceptable to brag.