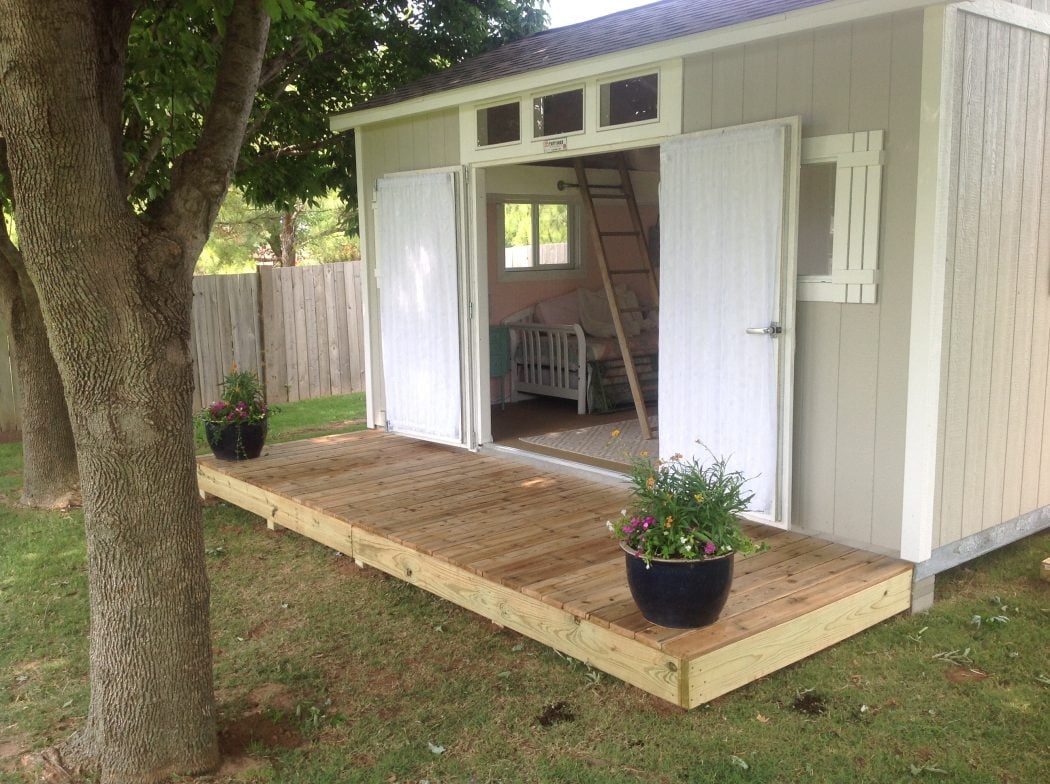 Shabby Chic Meets the Backyard Shed
She Sheds
She Sheds are a growing trend on Pinterest, with plenty of boards and pins dedicated to the phenomenon. In fact, Suanne Carlson used Pinterest to find inspiration for her very own She Shed. After raising a house full of sons, Suanne decided that it was her time to have a space of her own to pursue her interests in crafting and a love of reading. Her husband Steve took one look at her Pinterest board and knew they had to find the best shed on the market to stand up to her plans.
The Carlson's shopped around to look at the options for a backyard shed and they quickly decided on Tuff Shed. "We loved all the options to customize the shed. We liked the displays but knew we wanted to add more windows and maybe expand the loft,' says Suanne of the customization process, 'They helped with every step." The Carlson's selected a 12×16 Premier Pro Tall Ranch with double doors. They also extended and lowered the loft and added a few extra windows. The building looked impressive but it became even more of a haven when Suanne and Steve got to work designing and decorating.
Completing projects during the weekends, Steve and Suanne were able to insulate the She Shed, add peel and stick tile to the loft, and bring a contractor in to outfit the building with electricity. With the addition of shiplap panels on the ceiling between beams, interior paint, and an exterior deck, the She Shed is truly one of a kind. Suanne and Steve found an antique ladder for the loft and an old fashioned baker's cabinet to go alongside the furniture they already owned. The ladder is anchored to the loft, which was completed with garden wire fencing along the edge and futon mattress the Carlson's grandchildren sleepovers.
While the She Shed started out as Suanne's escape, it has turned into a backyard getaway of sorts for both the Carlson's. "Steve uses it just as much as me, if not more!' says Suanne of the supposed She Shed. 'We'll sit out there together with the doors open while he goes over paperwork and I read."
The shabby chic décor on the interior has lived up to Suanne's dream board expectations. "It rivals anything that I've ever seen on Pinterest." As for the design and installation process, Steve and Suanne are both pleased with the service they found at Tuff Shed. "Everyone was so helpful and we loved that they were able to customize the building to meet our ideas and plans."