If you find yourself in need of a little extra space for your workout routine, think about utilizing your shed. From yoga studios, weightlifting centers, and more, your backyard shed can become a great home gym space. And what better place to get in a training mindset than in a Tuff Shed building? With our DIY guide you can get started transforming your shed into the ultimate home gym.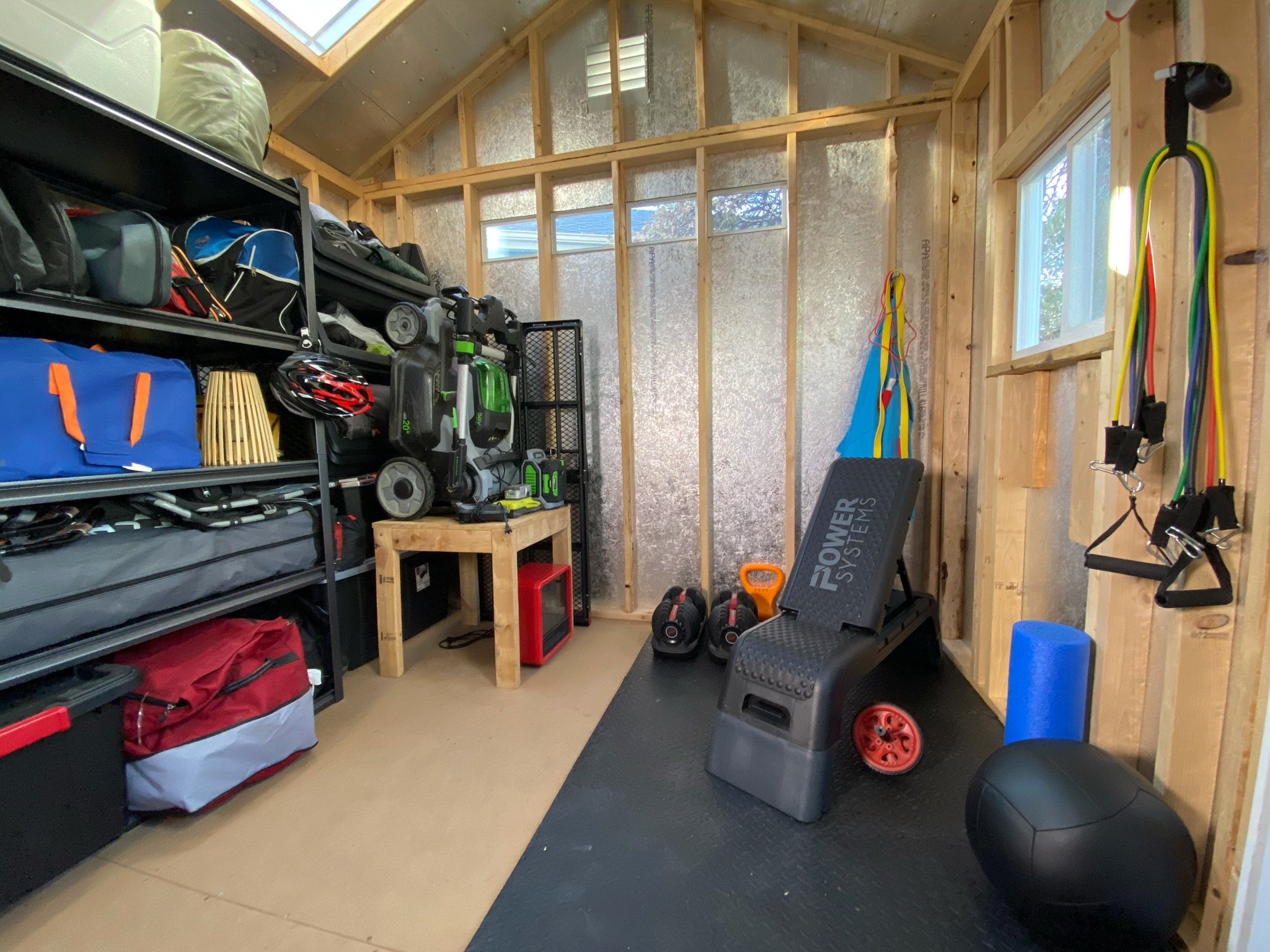 Clear Out The Shed
The best way to get started on your new home gym shed is with a clean slate. If your current shed is going to be used for both storage and a gym space, we recommend organizing, so you can focus on your workouts and not your gear.
But if you plan to design a new shed to be exclusively used for a home gym, we have a few tips below to help you create a perfect space for any home workout.
Find Your Gear
Keep in mind that compact and multipurpose equipment will be your best bet for a home gym shed. Adjustable weights and benches and all-in-one workout machines will allow you to accomplish a well-rounded workout without taking up too much space. Remember to consider how much space you'll need to actually use the equipment, such as the height you'll need to comfortably sit on an exercise bike.
For those of you planning a workout space inside a new shed, you may want to consider how else you'd like to use the space. If you're designing a yoga studio like the one pictured below, you can also utilize the space as a guest suite or an outdoor living space without sacrificing on your gym too.
Finishing Touches
The final touches can make all the difference inside your home gym shed. Don't forget to add a full-length mirror, hooks to keep your resistance bands and jump rope neat and organized, and a sound system and TV for on demand workouts. Keep in mind you'll want to plan to bring in electrical to the building, whether it's via a simple extension cord or by taking a more finished approach by having a contractor install things like an electrical panel, outlets, and switches. A few finishing elements can turn your shed into a perfect backyard workout zone that's a great fit for your fitness routine.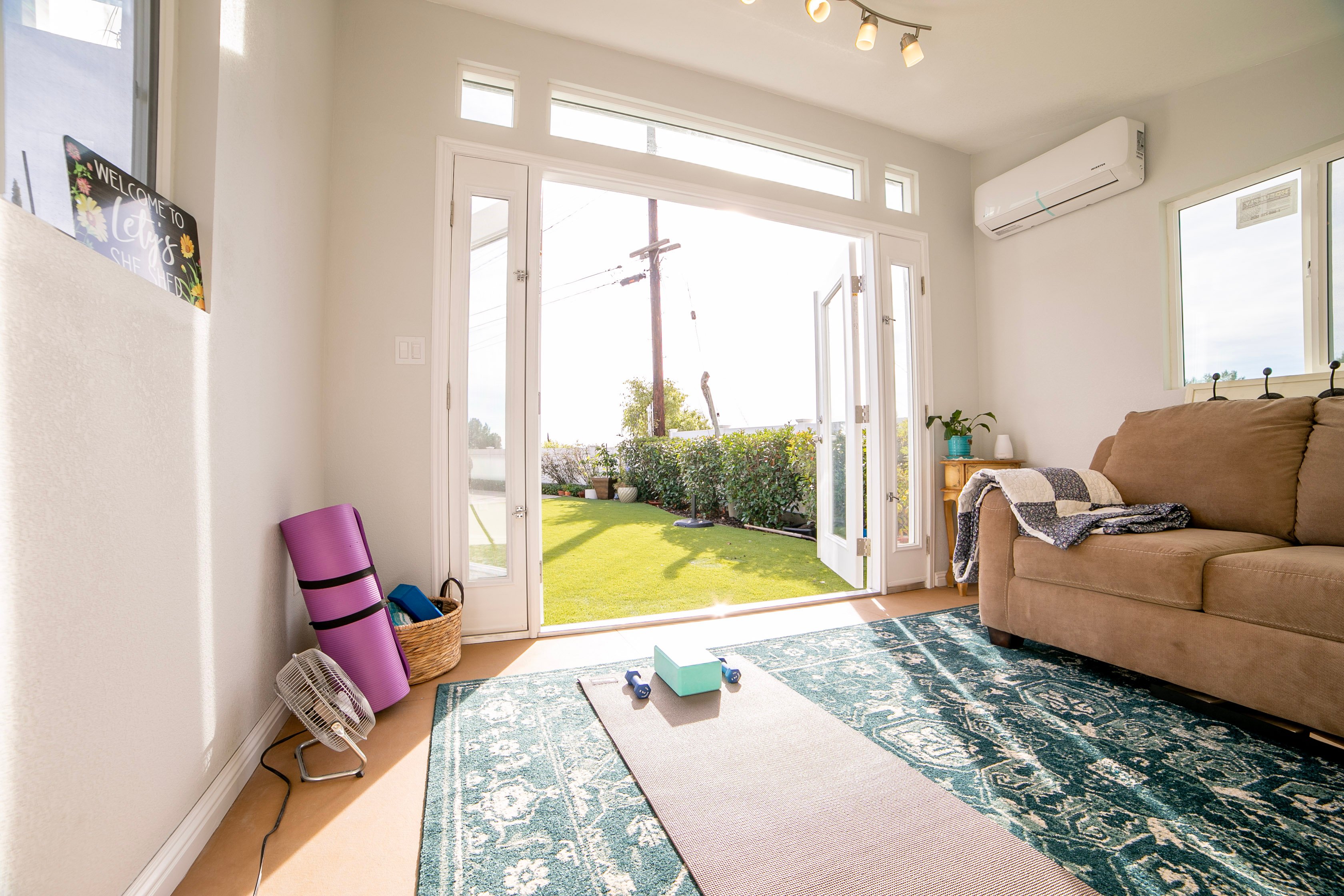 Designing Your Home Gym Shed
For those of you starting from scratch, you've come to the right place. Our sheds are an ideal place to start, as they're built just like a house. With studs that are 16" on center, several models with tall interior walls, sturdy floors, and plenty of options for customization, you can create a great home gym shed from the ground up.
Our Premier PRO Tall or Premier Tall sheds will be a great place to start, whether you prefer a ranch or a barn style shed. No matter what style of shed you choose, we recommend adding a few extra windows for natural light. You'll feel more motivated and ready for a workout in a space that's bright and inviting.
Our galvanized steel foundation is plenty strong, but if you plan to use your new home gym shed solely for weightlifting, you may want to consider upgrading the floor system. There are plenty of options to do so, like adding another layer of sub-floor and increasing the number of floor joists so they are closer together than our normal 24″. If you really want to go all out, you could have a concrete pad poured and connect the building right to the concrete. And if you plan to insulate your new shed and add dry wall, be sure to select house wrap when designing online.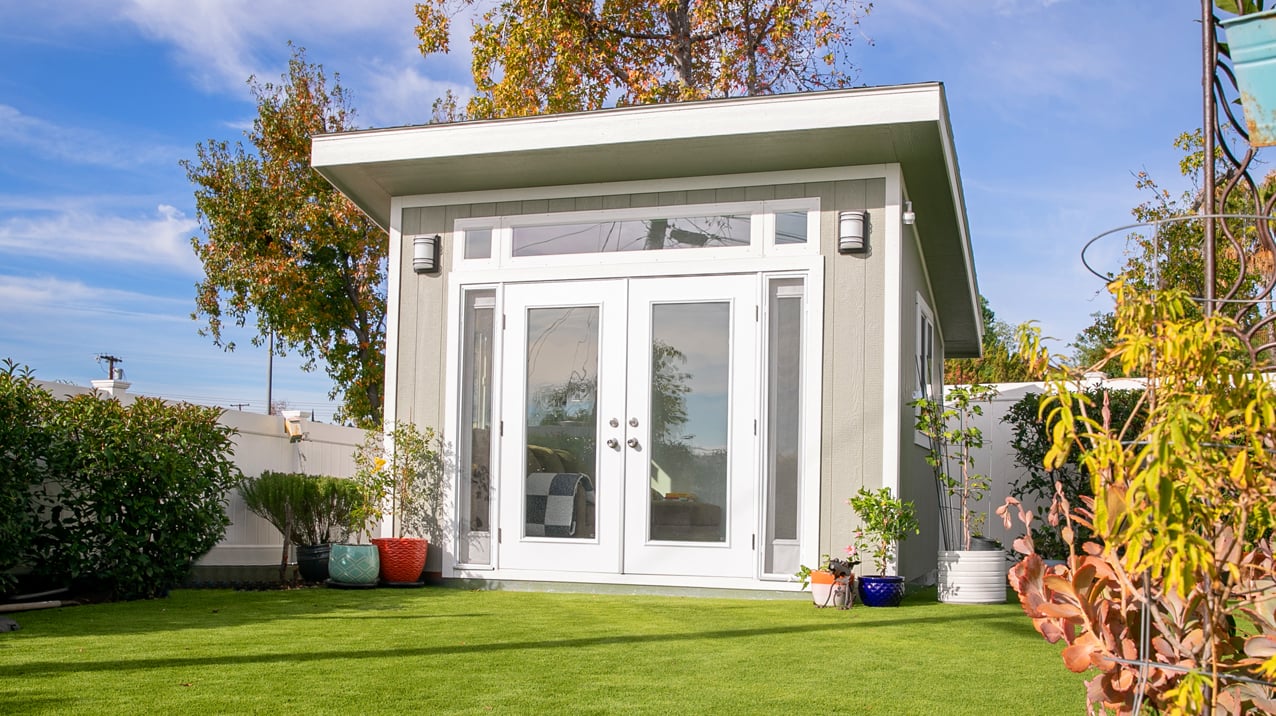 Now you're well on your way to a perfect backyard gym. Be sure to share photos of your home gym sheds with our team!