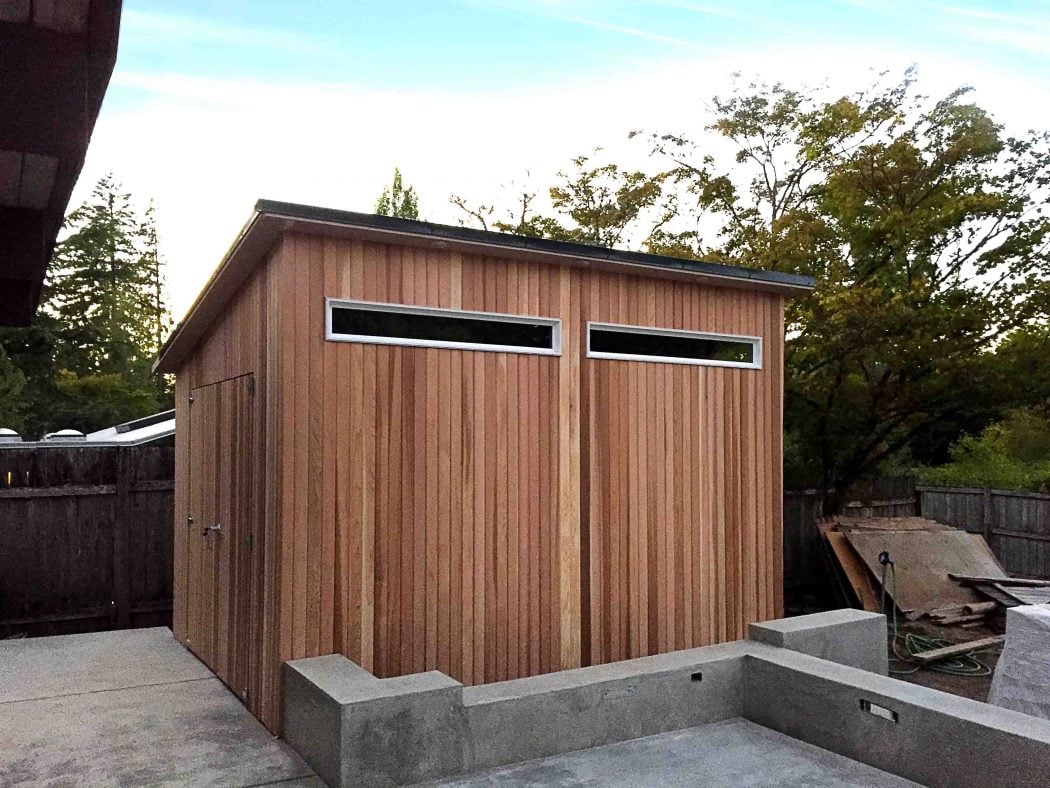 Is it a sauna? A greenhouse? Maybe a guest house? None of the above! This modern looking structure is used solely for storage.
The key for Kathleen and Mark Benafel's Tuff Shed building was customization. They worked for quite some time to determine a landscape plan for their home, and wanted their new storage building to have the same amount of care and design focus. When they came to Tuff Shed with a modern design plan, the team delivered.
Kathleen wanted to be certain that the building would blend with the established look of their home, a mid-century modern style built in the 1960's. "The idea was to have a complimentary structure, that looked like it was meant to be there," says Kathleen, "I didn't want something that looked like an eyesore or an afterthought."
When first visiting the Tuff Shed sales lot, the Benafel's didn't see any display buildings that matched what they were looking for. Determined to have a Tuff Shed building, they worked with the team to design a non-traditional shed. "We were so elated that they were agreeable to our ideas and plans", says Kathleen.
To match the sloped roof and sharp angles on their home, Kathleen and Mark chose a 10'x12' Premier Pro Lean-To. They added two 61"x10" transom windows on the front wall and one unique 4' trapezoid transom window on the sidewall. The cedar siding on the Lean-To blends with the home as well, and the Benafel's plan to treat and stain the siding to match the exterior of the home when the Portland weather cooperates. A metal roof perfectly matching their home's roof was the cherry on top of an already awesome building.
The new storage shed turned out to be exactly what they were looking for, even down to the alignment of the doors. Kathleen is more than pleased with the attention to detail on her new shed, "The installation crew was wonderful, matching the lines in the cedar siding with the doors and walls for a continuous pattern. To have that level of care was great."
The Benafel's removed the fence in their yard to accommodate more landscaping projects. Neighbors using the nearby bike trail now have a clear view of the new storage shed. "We're the talk of the neighborhood," says Kathleen, "Everyone wants to know what that building is and what we're using it for. We've gotten quite a few wild guesses from the neighbors, but really, it's just a storage shed."