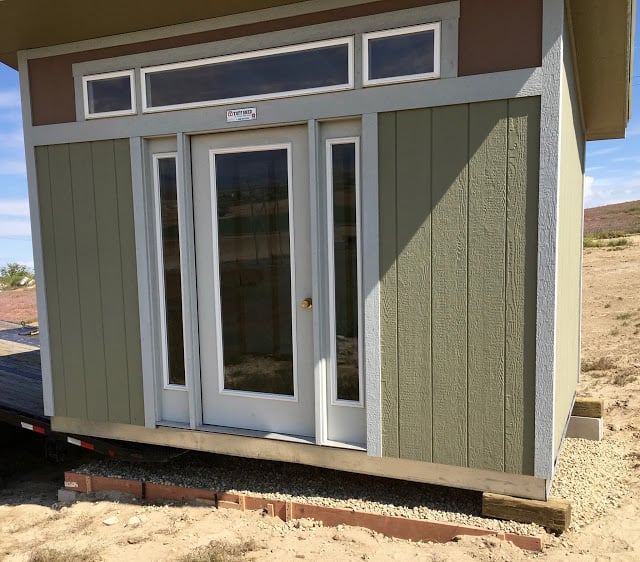 What do you do when you're looking test out solar power technology with a home office? Buy a Tuff Shed Pro Studio of course! Northern California customer Russel Graves found the perfect office in an 8×12 Premier Pro Studio. His hard work and upgrades have turned this office into a true masterpiece.
Graves started with a loose plan, knowing that he wanted to begin with a shed as the shell of his home office. "I hadn't worked on a project like this before and my plan was to figure it out as I went along," says Graves of his home office. After shopping around the area he chose Tuff Shed, based on quality construction and affordable price. He purchased a clearance-priced display building in the Premier Pro Studio model, with the discounted price allowing him to use his savings towards solar accessories.
After Russel's building was delivered, he got to work immediately, installing insulation for energy efficiency. When he was finished with the insulation, he covered the walls with plywood and cut a hole for an air conditioning unit. With his climate control in place, Russel got to work on his solar and battery pack units for power.
Now the office is up and running with solar power and outfitted with plenty of desk space and storage for all of Russel's work needs and additional battery packs. As he spends 40 hours a week working from home, the office has played a major role in letting him separate his work and home life.
"I'm incredibly happy with Tuff Shed and the whole project was a lot less work than I originally thought it would be."
If you'd like to see Russel's work on the studio from beginning to end take a look at his detailed blog here: https://syonyk.blogspot.com/2016/07/solar-shed-summary-my-off-grid-office.html.
http://www.tuffshed.com/wp-content/uploads/2016/08/IMG_1236.jpg
562
640
Tuff Shed
https://www.tuffshed.com/wp-content/uploads/2014/09/TS-logo-hor-2c.png
Tuff Shed
2016-08-26 10:49:28
2016-08-26 10:49:28
The Solar Studio