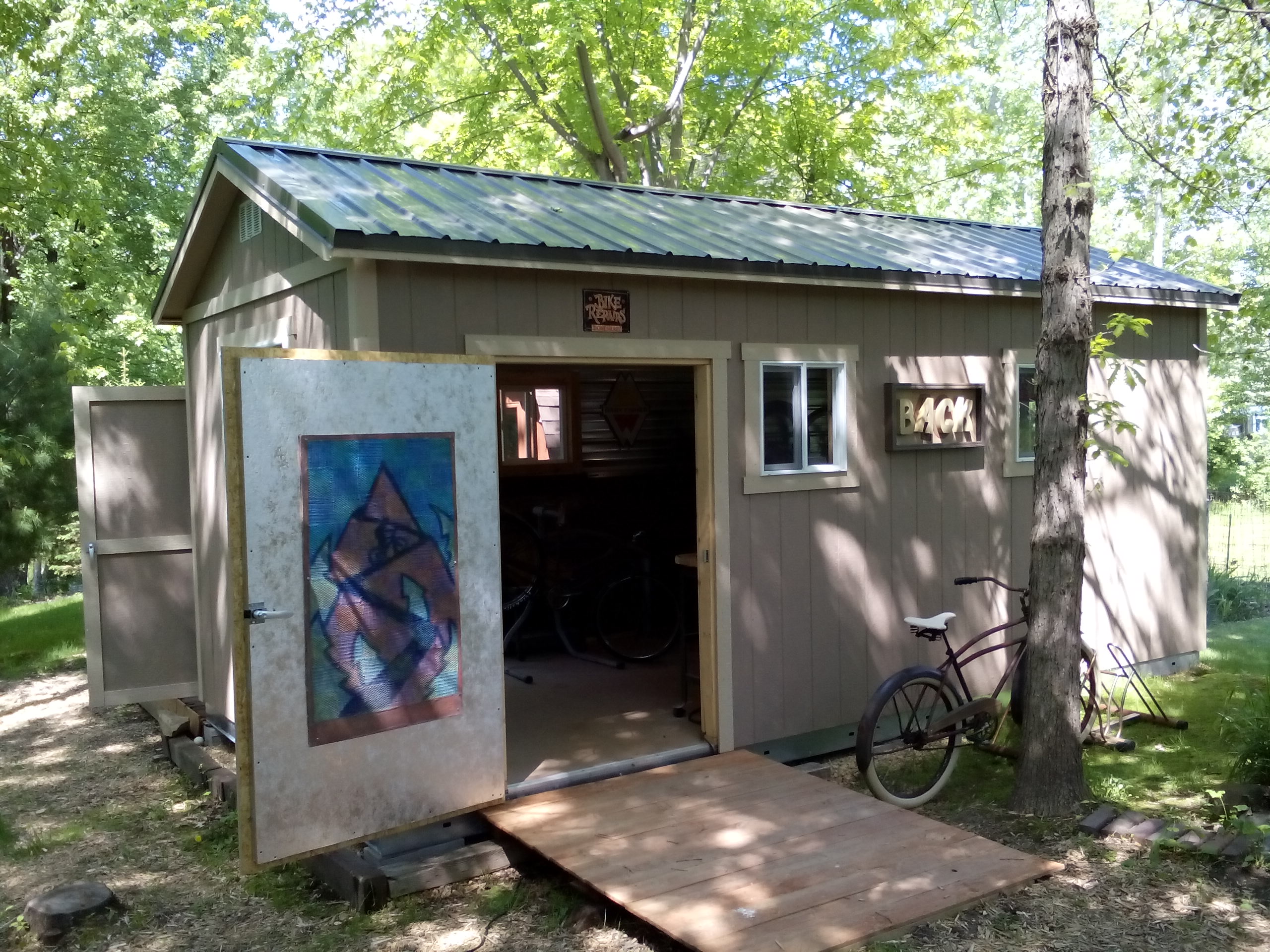 When it comes to getting around, Lee Swenson will almost always choose a bike. But his passion for two-wheeled transportation was causing overcrowding in his garage. As a long time bike enthusiast, he had an overflow of bikes, parts, and repair tools, leaving little room for anything else in the garage. Rather than parting with his beloved collection, Lee decided it was time to upgrade his storage space.
Before looking into Tuff Shed, Lee considered building another storage shed himself. "I have a little construction experience but I didn't think I had the time or help necessary for a project this big" says Lee. After doing a bit of online research, he determined that a Tuff Shed building would be a lasting solution. He made a trip down to the Saint Paul, MN Tuff Shed showroom near his home and spoke with SDC Jon Gutierrez. Lee chose a 10'x20' Premier Pro Tall Ranch, with two 4'x3' custom windows, a slate steel roof, and an additional door on the back wall.
A major selling point for Lee was the opportunity to customize his building, not only for extra bike storage, but for his height as well. At 6'2", he needed headroom when his bikes were stored in overhead racks. In his custom Premier Pro Tall Ranch, Lee is able to store quite a few bikes overhead without any worry of bumping his head. Additionally, he customized the window height to allow for an unobstructed view out of the building while working on bikes inside.
He also decided to include even better access with an additional door. When open, it provides a direct sight line from the house to the nearby pond, keeping the view that Lee and his wife love. But for Lee, the star of the show in his new building is the unique treated floor with special SmartFinish® technology from LP® . "When working on the bikes, I tend to spill a little oil and make a mess and I was worried about the clean up afterward. But I haven't had any issue with the floor; it cleans easily and doesn't leave any stain behind."
The Back40 bike shop, named for the farm he grew up on, is letting Lee continue his bike hobby without compromising space or style. Utilizing galvanized tin and reclaimed wood, Lee has customized his new building in both the interior and exterior, adding a new porch off the back door and decorating the inside. He also painted the Back40 bike shop to match other buildings on his property. Lee looks forward to continuing to customize his space, but the building is standing up to his vision. "The crew did a great job and the building is as close to how I imagined it as it could possibly be." With all the new storage space Lee has plenty of room for his cars in the garage (and maybe a few extra bikes).
http://www.tuffshed.com/wp-content/uploads/2016/05/IMG_20160516_144427.jpg
1920
2560
Tuff Shed
https://www.tuffshed.com/wp-content/uploads/2014/09/TS-logo-hor-2c.png
Tuff Shed
2016-05-27 08:42:40
2016-05-27 08:42:40
An Above Average Hobby Shed