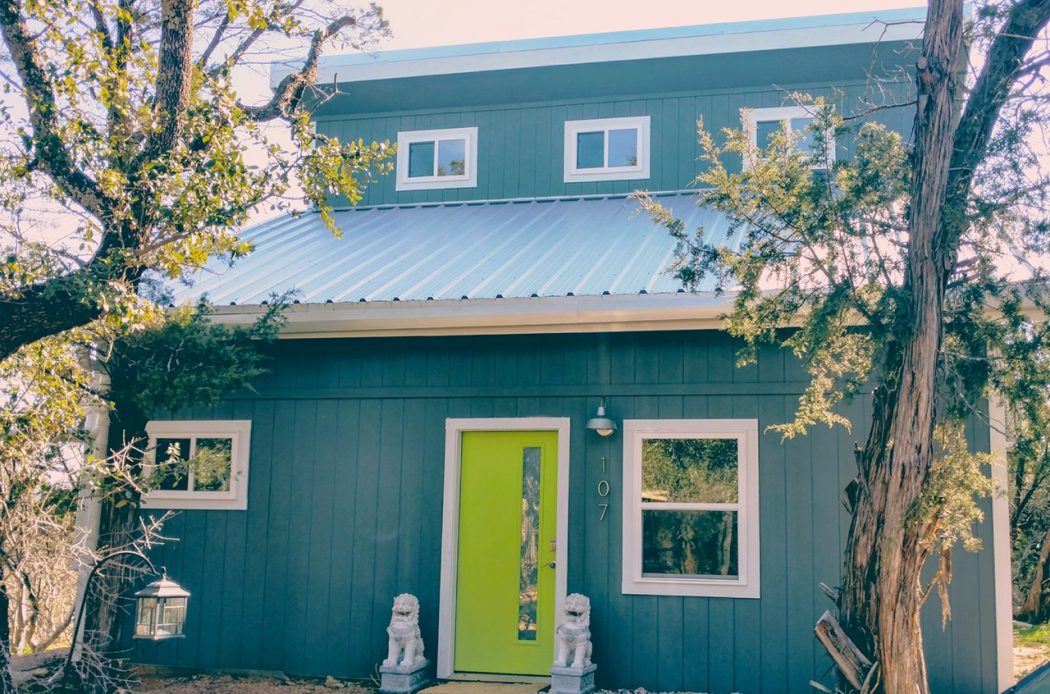 Sometimes you just need to get away from it all. And when those times come, there's no better place to get away than your very own cabin with a view. Blake and Mandy Lowry needed a break from the hectic Austin lifestyle so they decided to make a permanent change.
The Lowry's bought a plot of land on Lake Buchanan in central Texas with big ideas to build a new home with fewer city distractions. "We had always wanted to do a prefab build and Tuff Shed was the best choice for us," says Mandy. With a focus on modern style and plenty of windows to take in the view, they were able to find several Tuff Shed buildings that fit their requirements. The Lowry's decided on a 12×24 Premier Pro Studio and Yellowstone cabin shell.
As soon as concrete foundations were dry, the installation team got to work installing the Tuff Shed buildings. The Premier Pro Studio was installed that day and the Lowry's temporarily moved in to the Studio while their Yellowstone cabin shell was being built.
Mandy and her husband made a few custom changes to the cabin shell layout by adding an extra exterior door and eliminating the first floor mudroom. They also removed an interior wall on the second level, replacing it with beams covered in cedar planks. "We really wanted an open floor plan, with the upstairs area looking more like a loft," says Mandy.
Not only was it important for the Lowry's to have a more relaxing lifestyle; they also wanted to be mindful of the environment and their new land. Mandy and Blake incorporated green energy with rainwater collection and solar panels. In both cases, the metal roofs on their new buildings helped to integrate their ideas.
With the two Tuff Shed buildings installed, the Lowry's got to work finishing out the interior of both buildings themselves. The interior finishes to the cabin shell took around four months and Mandy and Blake are more than pleased with their new home. "The process really wasn't too bad," says Mandy, "I think we could have gotten the interior done a bit quicker if we weren't so hands on but we really wanted everything done right."
If you'd like to see the cabin shell installation and interior finishing from beginning to end, Mandy has created a Pinterest board specifically for this project. You can check it out here: https://www.pinterest.com/mandybamboo/our-tuff-shed-yellowstone-cabin/
http://www.tuffshed.com/wp-content/uploads/2017/02/BOM_Blog.jpeg
846
1280
Tuff Shed
https://www.tuffshed.com/wp-content/uploads/2014/09/TS-logo-hor-2c.png
Tuff Shed
2017-02-23 17:40:40
2017-02-23 17:40:40
A Yellowstone in the Heart of Texas