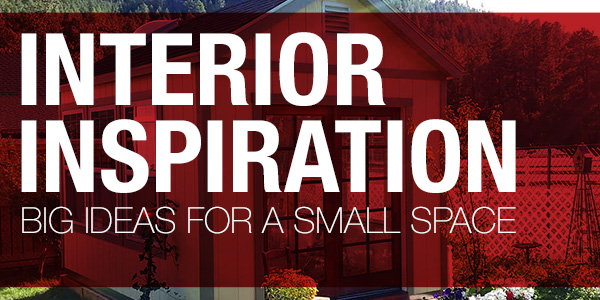 Looking to customize the interior of your Tuff Shed building but need some inspiration before getting started? We've compiled a list of a few of our favorite blogs on small space decorating along with a couple of our own DIY projects. With this list, you'll find all the inspiration you need to make your new Tuff Shed building stand out.
She Shed
If you're creating a She Shed paradise this blog from Ella Claire has some great inspiration and ideas for decorating a simple and relaxing space:
http://www.ellaclaireinspired.com/25-gorgeous-she-sheds/
Another great She Shed inspiration is this She Shed from Strawberry, AZ:
http://www.tuffshed.com/her-country-french-garden-getaway/
Outdoor Entertaining
Does your new building have a front porch? Take a look at these tips from Good Housekeeping for making the most out of a small patio space. We especially love the idea of utilizing double duty furniture.
http://www.goodhousekeeping.com/home/gardening/tips/g1226/small-outdoor-space-decor/?slide=1
Guest Suite
Is your new Tuff Shed building going to be used as a backyard guest house or grandma suite? If so, it's important to make the small space seem as large and welcoming as possible. These ideas from Homedit for small space décor will make all the difference, especially when it comes to storage and design.
http://www.homedit.com/small-apartment-decorating/
If you're looking for an example of a Tuff Shed building turned into a Tiny Home, these blogs documenting Spencer Gibb's Tuff Shed projects are great for small space inspiration:
http://www.tuffshed.com/ones-not-enough-part-1/
Storage Space
Maybe you're using the shed for storage only. These small space organization ideas form Listotic will keep your items in order and ready when you need them without taking up valuable extra space.
http://www.listotic.com/29-small-space-hacks/2/
Home Office
A home office in the backyard is a great idea for separating work from home life. But with a home office comes the need for organization. These ideas from How to Build it are great for keeping your office supplies and documents in order.
http://howtobuildit.org/2015/05/05/creative-home-office-organizing-ideas/
This Shedquarters is also a perfect example of how to turn a Tuff Shed building into the ideal workspace.
http://www.tuffshed.com/down-to-business-with-this-backyard-office/
Workshop
An organized workshop is a happy workshop! Our DIY tutorial for a foldable workbench will give the perfect workspace when you need it and fold away when you're finished.
http://www.tuffshed.com/not-your-average-pegboard/
http://www.tuffshed.com/wp-content/uploads/2016/09/Blog.jpg
300
600
Tuff Shed
https://www.tuffshed.com/wp-content/uploads/2014/09/TS-logo-hor-2c.png
Tuff Shed
2016-09-22 14:07:04
2016-09-22 14:07:52
Making a Small Space Work For You